Sir Ranulph Fiennes tells us how he got through the 'hell' of the Marathon des Sables
by Sir Ranulph Fiennes Explorer, fundraiser, author and public speaker Sir Ranulph Fiennes' long list of adventures, expeditions and challenges, often for charity, have made him a national treasure. Now he has become the oldest Briton to complete the Marathon des Sables, a six-day 156-mile ultra-marathon, dubbed 'the toughest footrace on earth' – all to raise money for Marie Curie.
The race was hard. I'd never had to deal with blisters before, or have to worry about sunburn so much. My trainer, Rory Coleman, said I was broken at the end. He wasn't far from the mark. I've never taken painkillers before, but by the final stage, I couldn't get enough. The main thing is this race is not set up for old geriatrics like me.
The beginning
As soon as we were a few hours into the first stage, I knew it was going to be a long old race. The sand dunes were a real problem, especially under the midday sun. The steep inclines were even more of a pain. It was so much effort because of the double heart bypass and two heart attacks I've had. The cardiologist who cut me open told me not to exceed 130 beats per minute – otherwise I could have another one. I had to be really careful. Which, as you can imagine, isn't easy in the desert. The pack made my back and shoulders sore. The first day it was at its heaviest, as you're carrying all the food you'll need for the race, a venom pump to save your life if a snake bites you, a sleeping bag, sun cream, everything including all the water.
The struggle of the hills
By the time we got to the end of the second stage, my shoulders were doubly sore. After all that mileage – by the second stage we'd gone over 67km – my feet felt bruised and were tremendously uncomfortable. The hills were horrendous. Uphill, I'm a tortoise – but downhill is my speciality. Thirty years ago, I developed a technique for coming down hills, so I was much faster on the descent. Without this, I might have been deemed too slow and taken out of the race.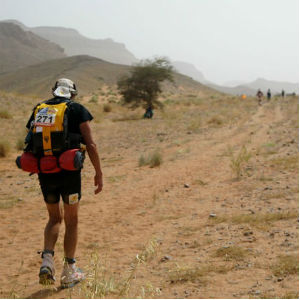 That was a real worry. At the back of the race are the camels who sweep up anyone who's going too slowly. On stage three, it was getting close. It was so soft underfoot your feet just aren't moving you forward properly, you're sliding back. It was like walking on a treadmill in the 51°C heat. Sand kept slipping away under my feet. I kept losing my grip. I had this dreadful feeling that I was holding people up behind. This was constantly on my mind. My heart caused quite a lot of bother at the top of Mount Everest [Sir Ranulph suffered a heart attack just 300 metres from the summit], so I know the warning signs. I had two moments on the third stage. I took the warnings and sat on a rock for a bit. I experienced a bit of dizziness and a sort of fluttering in the chest. A little rest and I could go on again. I think Rory was more worried than I was.
The horrific stage four
It was after all this that Rory said something I'll never forget: "The race only starts tomorrow. These first few days mean nothing, absolutely nothing at all. It's all about the long day." Thanks Rory. He was right though. Stage four is called the long stage. They should rename it the Hell Stage. It's 91.7km long, the longest-ever stage of the Marathon des Sables. The time limit is 36 hours, so we had to go through the night. Stage three had left me with a pain down my left leg, which wasn't ideal. But everything got worse.
We wore lights on our heads at night like miners down a mine, and the one strapped to me was getting darker. It was almost impossible to see the ups and down in the ground and I jolted my back a few times. The lower right hand side was shot, so I spent the rest of the race walking with a list. The night was pretty horrific. We had one hour of sleep. We covered 50 miles in 24 hours. We were climbing very big cliffs of sand, our feet slipping backwards as we tried to go up. When the day came again temperatures were 53°C with very high humidity. It was a pretty good sort of hell on earth. My hand was also giving me trouble. Without the ends of the fingers, the blood supply is pretty terrible and my hand didn't like the hot of the day and the cold of the night. Obviously I didn't bring gloves to a desert, so I resorted to using one of Rory's socks. I fear I looked a sight, leaning to one side with a sock on my hand.
Quitting was not an option
I didn't consider quitting. I certainly considered that something very bad was about to happen. In the dunes, up in the mountains, Rory was brilliant. He sat me down. I wanted to get up after 30 seconds, but he kept me down so my heartbeat would slow. The whole thing was a bit of a nightmare. I've not been in hot stuff on foot for many years and it was very, very difficult. Now I'm back in the UK I'm going straight to my surgeon to see what is wrong with my vertebrae. It'll be worth it if I can raise plenty of money for Marie Curie and the wonderful nurses that make life much more bearable in a difficult time in your life. You can still support me by donating on my JustGiving page below. And if you want to hear more about my past expeditions, come along to my 'An evening with Ranulph Fiennes' event on 26 May 2015 .