Bill's story
When Bill Pratt signed up to take part in a run for Marie Curie, not only was he looking for a real personal challenge but he wanted to give something back to the Marie Curie Nurses who cared for his father.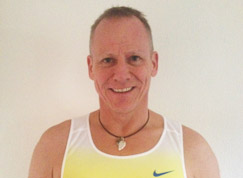 "My father died of cancer at the age of 77. The Marie Curie Nurses were like angels in his last few weeks. My sister lived close to my father and spent a lot of time with the nurses whilst they cared for him. She couldn't stop talking about how wonderful they were.
"Looking for a personal challenge, I decided to start running to get fit, and taking part in a run meant I could support Marie Curie at the same time. I've started my training steadily with shorter runs a couple of times a week, building up by about 10% each week.
"My uncle has also had a very personal experience of Marie Curie and has been a true inspiration in my fundraising. Every family is touched by cancer at some point in their lives and the end of life care Marie Curie Nurses provide is invaluable. I'm so looking forward to putting all my training efforts to the test on the day, it will be the highlight of my year."