Are we any closer to 24/7 end of life care in hospitals?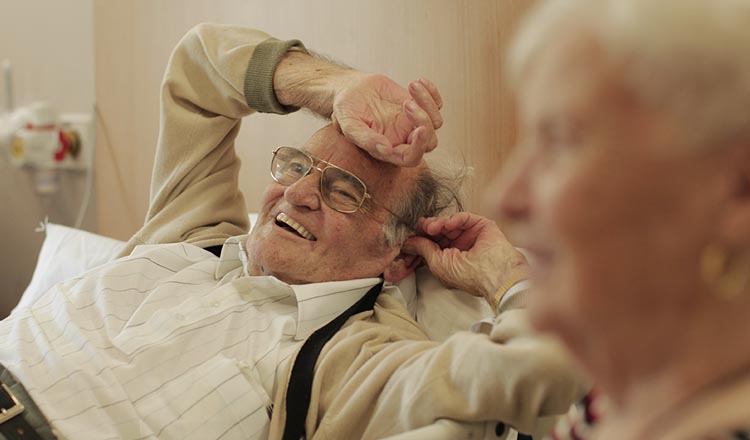 There has been steady progress when it comes to the care received by people reaching the end of their lives in hospital. That's according to the latest audit conducted by the Royal College of Physicians and funded by Marie Curie.
The audit, the first since 2013, assessed records of 9,000 patients in hospitals across England using data collected in May 2015. It shows a host of improvements to end of life care including better education of doctors and enhanced recognition of patients' holistic and medical needs.
The report also presents evidence of better symptom control for people living with a terminal illness. 96% of trusts were shown to have end of life education programmes in place for doctors, up from 82% in 2013. And communication has improved. Documented discussions with people close to the patient were noted in 95% of cases.
Barriers to care
Despite this, a number of concerning barriers persist. For example, the availability of specialist palliative care teams still varies widely.
Seven-day-a-week, 9am-5pm access to specialist palliative care is the minimum service level recommended by the National Institute of Health and Care Excellence. But almost two-thirds (63%) of the 142 organisations audited still can't provide it. What's more, 24/7 specialist care was only provided by 11% of these organisations.
People approaching the end of their lives have very complex medical and emotional needs. These results suggest doctors without any specialist end of life training often have to make decisions with serious implications for patients living with terminal illness and their loved ones. And this at a time when people are at their most vulnerable.
This means patients' wishes may not be properly identified and acted upon. Symptom management might be affected, and people close to the patient may not get the information and support they need.
The need for investment
It's clear that hospitals are trying to improve the end of life care they offer. Steady improvements in their commitment to education and training demonstrate as much. But without adequate investment, access to specialist palliative care is not going to improve.
The government and NHS remain committed to introducing a fully functioning 24/7 service. But this audit makes clear the need for more investment in specialist palliative care services. Without it, the needs of people affected by terminal illness are unlikely to be met.
Many trusts in England have already made good progress. However, they need more support in their pursuit of high quality end of life care. To deliver its plans for the NHS to deliver a consistent 7-day service by 2020, it's critical that funding is directed to recruiting and training doctors to provide specialist care.
That's why we are calling on Jeremy Hunt, the Secretary of State for Health, and Simon Stevens, the Chief Executive of NHS England, to take action. We need to put pressure on them to make sure people approaching the end of their life have access to high quality care – no matter what time or day of the week it is.