My first year as a hospice nurse
Just like the people they care for, Marie Curie Nurses come in all shapes and sizes. Newly qualified nurse Faye Russell-Jones explains why she chose to start her career at the Marie Curie Hospice, Cardiff and the Vale.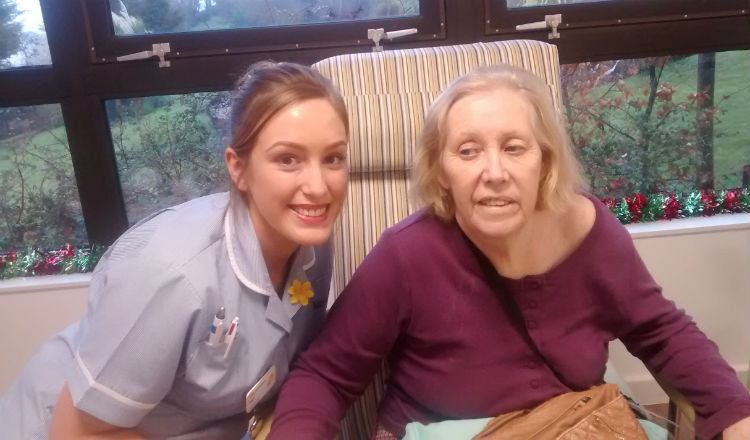 On my first day at Marie Curie, I remember feeling very nervous. It wasn't just my first day at a new job, but my first day as a qualified nurse!
My first impression of the hospice was: 'Wow!' It's positioned perfectly by the seaside and every patient room has a view of the sea. I was greeted by friendly, welcoming staff and a cup of tea. By the end of my first shift I knew I had made the perfect career choice.
Every day has special moments – whether it's helping to fulfil someone's final wish, having the time to curl their hair and paint their nails, or simply sitting and holding a person's hand when they need somebody to talk to.
I'm passionate about palliative care
My interest in palliative care began during my first placement as a student nurse and has grown into a great passion since. I was drawn to the way palliative care involves caring for the patient as a whole person, rather than just treating the disease.
Wherever you work as a nurse, you're going to come across people who need end of life care. So I think it's important for all newly qualified nurses to feel confident in meeting the needs of terminally ill patients and their families.
We try to make the hospice a home from home
The Marie Curie Hospice, Cardiff and the Vale has a fantastic reputation within our local community. People speak highly of the care, whether they have experienced it personally or know somebody who has.
A lot of people think hospices are all doom and gloom. But as a team we work hard to create a positive, caring environment. For the Six Nations rugby, we decorated the ward in the different flags and patients watched the matches with a drink from our mini bar. It's a great way of lifting people's spirits.
A hospice can be like a home from home for many people. They're often surprised when we tell them that their family and friends can visit and stay whenever they like. Even their pets are welcome!
It's not always easy
The hardest moment I've had was caring for a dying patient who was just 23 years old, the same age as me. We shared similar interests and had the same aspirations. It was difficult at times to know what to say, but we'd always end up talking about make up or some other girly thing!
I believe this is what helped her to open up to me more. I helped her create a 'bucket list' and achieve some of her final wishes. The difference we make to the lives and wellbeing of patients and their families is truly special.
Every day is worth it
I'm ending my first year as a Marie Curie Nurse on an incredible high. I'm so thankful that I was given the opportunity to pursue a career with Marie Curie.
If I had listened to people telling me not to apply for a palliative care role because I was 'too young' or because 'hospices don't employ newly qualified nurses', I wouldn't be where I am now.
I hope to start my master's degree in palliative care soon. I'm not sure what the future holds for me yet, but I can only hope for a long and successful career in palliative care, doing what I'm most passionate about.
Interested in becoming a Marie Curie Nurse like Faye? Find out more and apply for a role near you.