Patrick Grant's story
Designer and judge of the Great British Sewing Bee Patrick Grant tells us about his passion for cycling the great outdoors, and his inspiration to fundraise for Marie Curie.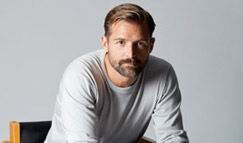 "I've been aware of Marie Curie for a long time. However, it wasn't until my mum began working as a Helper in Edinburgh that I grew to understand all of the different ways in which they care for people suffering with terminal illnesses. Like many people, it's not until you experience a charity's services first hand that you see the amazing work they do. That's why I decided to take on a cycle challenge in support of Marie Curie."
Patrick enjoys being active, and already with quite a few big challenges under his belt including marathons and adventure races, he took on the challenging Coast to Coast in 2013; "I felt that if I wanted people to dig deep in difficult times I really needed to do something that was beyond anything I've done before. So that's exactly what I did."
Patrick has also completed the 'brutal but beautiful' Etape Pennines 2013 and RideLondon for Marie Curie. "The best advice I can give to people is whatever your cycle challenge - get out into the beautiful British country side. The hills might be brutal but the view from the saddle is a uniquely intimate and rewarding one.
"Marie Curie is a wonderful charity which provides care and enables people to choose where and how they spend their final days. Without generous donations from the general public, Marie Curie wouldn't be able to continue doing this fantastic work."