Going the distance for Granny
Rose Hawkins, 24, took on the challenge of a lifetime when she swam the Channel to raise money for Marie Curie. She explains how caring for her Granny at the end of her life with the help of Marie Curie Nurses inspired her to dive on in.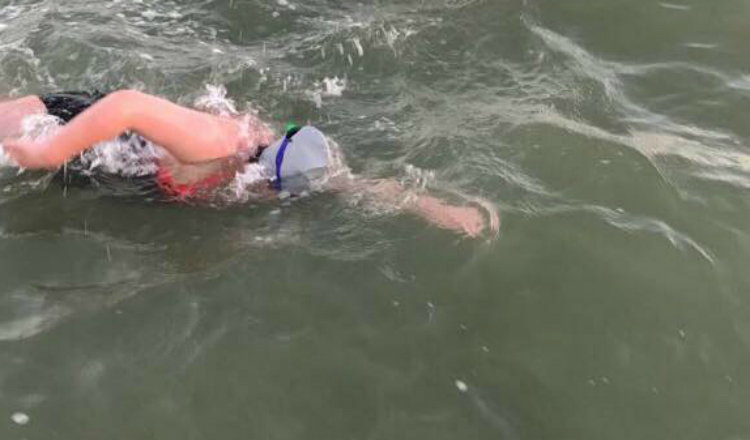 "I've always wanted to do it. I've always been a swimmer, although I'd never really tried outdoor swimming. In fact, the village I live in is the furthest point from the beach in all of England! I just thought now was the time to try."
The most wonderful person
"Granny and I used to go swimming together. Granddad always said he taught us to swim – but I think it was probably Granny who taught us!
"She was the most generous and kind person. She was loved by everyone – her community and her family. She was so giving, and she did everything for everyone. She was just the most wonderful person you could ever meet.
"Granny went into hospital with a few health problems, and she was diagnosed around Christmas. The prognosis was six months."
Pulling together as a family
"We had a really good few months, and managed to spend lots of time together, but she deteriorated very quickly in the end. We all wanted her to stay at home, but she was worried about being a burden to those caring for her – which was typical of how selfless she was.
"My mum is one of three girls, so they could come and be there with their mum all the time. We all ended up living in the house."
Marie Curie helped us be together
"Marie Curie really helped. We're a really close family, and the nurses understood that immediately, that we wanted to be able to be together. When it got really hard we all took it turns to stay with Granny overnight. One of the nurses would come and be beside her as well. They slotted in so well and just understood. It was comforting to have them there.
"Towards the end, we knew there was going to be a nurse at night, which was such a comfort. We asked them to wake us up if anything happened, which they did. It was just lovely to know someone was with her, and such a massive help. I know Granny was happy and comfortable at home."
Taking on the cold – and the jellyfish!
"To get ready for my challenge I swam 21 miles every week. Through the winter I trained in the pool and then outside from spring onwards.
"I trained in Lake Windermere, which is the most amazing place to go to swim. I completed 21 miles around the lake in July; it was lovely to swim with the sun on my back the whole way. It was very busy with boats though, so I had to be wary!
"The cold water conditions of the Channel were probably the biggest elements to consider. I knew it was going to take me between 12 and 16 hours, and I couldn't wear a wetsuit, so I decided to put Vaseline all over me to hold off some of the cold! Then there were the jellyfish, sewage and debris to avoid…"
Just keep swimming
"Mum, Dad, my sister Sarah, and my cousin Lizzie came on the boat next to me. There was an observer present to ensure I never touched the boat, otherwise I'd be disqualified. Mum and Dad gave me food and drink using a retractable dog lead with a bottle tied to it and in a net!
"I love swimming – once you've got the breathing right, you can just keep going. I knew I could do the distance. And I'm proud to have raised money in Granny's memory."