Scott Thwaites
Scott Thwaites rides as a pro for Team NetApp-Endura.
He has kindly lent us his expertise on all things cycling-related to help our Daffodil Team cyclists get prepped for race day.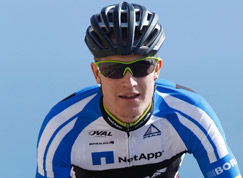 Since joining Team NetApp-Endura, his highlights include securing eighth place at stage four of the Tour of Britain, as well as a second place finish at the tenth stage of the Tour of Qinghai Lake.
He's one to watch and expertly placed to give you all the advice you need.
Back to basics
We asked Scott to start with the basics to ensure that you've got the core skills covered correctly. Here's Scott's advice in an easy-to-digest format.
When hill climbing:
Use a low gear to avoid putting too much pressure on the legs
Alternate between pedalling in and out of the saddle
Start steady so you can give a bit extra on steep sections
During a sprint section:
Keep a high cadence
Hold the drops and keep your body low and aerodynamic
Change into a harder gear when you start to spin out
To corner safely at speed:
Use both brakes
Look at the exit of the corner as you approach
Take a wide entrance and cut in to hit the apex on the corner
For good downhill control without losing too much speed:
Use both brakes
Keep your body low
Avoid skidding the rear wheel
Good gear management advice includes:
Trying to keep a cadence on around 80-90rpm
When your legs are spinning too fast make the gear harder
When you feel pressure on the muscles and the bike slowing, change to an easier gear
Responsible cycling
We asked Scott for his top tips on how to adopt a responsible and impact-free cycling ethos.
Look after the environment:
Always put litter in your back pocket until you find a bin
Take punctured inner tubes home; don't leave them on the roadside
Use toilets where possible
Keep the noise down!
Ride close together so you don't have to shout
Be respectful in residential areas
When riding in groups:
Keep two abreast at most
Form single file on narrow lanes
Use clear signals to indicate change in direction to other road users
Safety first
Last - but certainly not least - we asked Scott for his advice on keeping safe whilst on the road:
Road positioning:
Keep a safe distance from the gutter to avoid any potential obstructions, but stay close enough to allow vehicles to pass you safely
Communicate with fellow cyclists and road users:
Point out holes/obstructions in the road
Alert other riders to any hazards
Signal early and clearly to allow cars to slow down if necessary
Day/night visibility:
You – Wear bright coloured clothing during the day, and wear reflective strips and a light on your helmet at night to increase your visibility
Your bike – Use two lights on both front and rear in case one fails